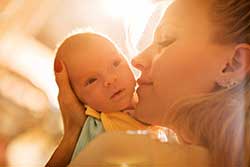 Having a baby is a miraculous event you'll remember for the rest of your life. At Parkland Medical Center, an entire network of maternity and birth specialists—including nurses and related clinical staff—is available to collaborate on your care, right here in your community. We're committed to making your pregnancy and birth experience safe and joyful—putting you and your baby at the center of everything we do.
Expert, Compassionate Maternity Care
Parkland is recognized for providing pregnancy and birth services that meet the highest standards of care. When you choose our Family Birthing Center for your maternity care, you benefit from:
Comprehensive services, from prenatal education to help with caring for your new baby
An experienced, highly trained and specialized staff who love what they do and work as a team to care for you and your family
Personalized care with a range of birthing options, including midwifery and Vaginal Birth after Cesarean (VBAC) delivery, in our family-centered environment
The latest technology and evidence-based best practices to ensure a safe pregnancy and birth
3-D ultrasound, providing clear images of your baby
Our strong commitment to breastfeeding, supported by our dedicated staff and physicians, our lactation consultants, long-term support group and demonstrated by the successful experiences of our patients
Our emphasis on newborn safety and security, including our mother/infant security system
Pregnancy Care and Classes
Become an active participant in your pregnancy care and learn about your choices for labor and delivery. Explore Parkland's prenatal and parenting classes to help you and your family prepare for the birth of your child. For an overview of our classes, view our Childbirth Education flyer.
Between morning sickness and weight gain concerns, healthy nutrition can be a challenge during pregnancy. Our registered dietitians can help you sort through the myths and find a nutritional balance that's healthy for you and your baby. A small percentage of women develop diabetes during pregnancy. We can help women with gestational diabetes—the inability to regulate blood sugar levels properly—navigate the issues associated with this often temporary condition. Learn more about our nutrition services.
Labor and Delivery
The Family Birthing Center at Parkland celebrates the uniqueness of every birth. Experience our superior, personalized care before, during and after delivery in our spacious, private birthing rooms large enough for family members to help welcome your newborn.
Learn more about labor and delivery at the Parkland Birthing Center.
After Your Baby Arrives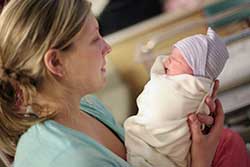 Once your baby is here, we'll take good care of everyone. We offer family-centered attention and sleep accommodations for your significant other. Our certified lactation consultants help you and your baby get a good start with breastfeeding and provide as much follow-up support as you need.
Learn about all the ways we care for you and your baby.
Find an OB Provider
If you don't yet have an obstetrician/gynecologist (OB/GYN)—a doctor who delivers babies and cares for women's health—it's important to find one early in your pregnancy to ensure proper care for you and your baby. All of our OB/GYNs are board-certified and meet the highest professional standards.
Find a Pediatrician
Choosing a pediatrician—a doctor who cares for infants, children and teenagers—is another vital step in preparing for your new baby. You may want to ask your obstetrician for recommendations or choose from our network of pediatricians.
Learn about pediatric care at Parkland.