Pulmonologists in Derry, New Hampshire
Parkland Medical Center's respiratory care program provides accurate diagnoses and compassionate, effective treatment for patients with acute and chronic lung conditions.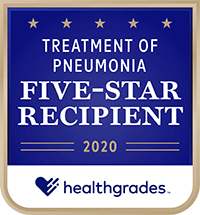 Our skilled lung experts treat:
Asthma
Bronchitis
Chronic obstructive pulmonary disease (COPD)
Emphysema
Lung cancer
Pneumonia
Contact our Consult-A-Nurse® team at (877) 642-2362 for more information about pulmonary care at Parkland and to schedule an appointment.
In addition to identifying and treating pulmonary conditions, our experts will work with you to develop a preventative and proactive approach to safeguarding lung health. We'll help ensure your long-term well-being by:
Teaching you about your specific condition
Encouraging positive lifestyle changes
Providing smoking cessation resources
Giving you access to the latest treatments and therapies
Prescribing effective medications
Pulmonary function testing
Pulmonary function tests reveal how well your lungs work—how much air your lungs can hold, how much air you can blow out and how hard you can blow air out. These tests help doctors diagnose a range of conditions, from coughing to respiratory diseases.
We offer a full range of inpatient and outpatient pulmonary tests to measure lung capacity and flow rates of oxygen, carbon dioxide and other gases. These breathing tests include:
Spirometry
Lung volume measurement
Diffusion study
Bronchoscopy
During a bronchoscopy, your pulmonologist visually examines the air passages leading into the lungs using a bronchoscope—a long, thin, flexible tube with a camera. We use bronchoscopies to diagnose and treat conditions involving the lungs and trachea, such as bleeding, difficulty breathing and chest pain.
You may also be a candidate for an endobronchial ultrasound (EBUS), which is an alternative to surgery available at Parkland through our affiliation with the Lahey Clinic. This test can help diagnose lung infections and diseases affecting the chest's lymph nodes.
Asthma treatment
When you come to Parkland with an asthma attack, we'll determine your peak airflow and provide appropriate treatments. We also offer guidance and treatment for pediatric asthma cases through our P.A.C.T. program.
Lung cancer screening and treatment
Early detection and diagnosis are vital to successfully treating lung cancer. Your doctor may recommend a lung cancer screening if you have any symptoms or meet these criteria:
Are between 55 and 75 years old
Are a current or former smoker with 30 or more "pack years" of smoking
Have had no incidence of pneumonia for the past 12 weeks
Haven't had a computed tomography (CT) scan in the past year
If lung cancer is detected, Parkland provides treatment services, including chemotherapy and biotherapy, as well as services like physical therapy and pain management to ensure your total care.
Pulmonary care locations
Retrieving location data...