Orthopedic doctors in Derry, New Hampshire
Bone and joint care is an important part of your overall health, especially as you get older. That's why Parkland Medical Center's orthopedic specialists offer personalized treatment—including nonsurgical and state-of-the-art, minimally invasive techniques—to treat an array of conditions and injuries.
For more information about our orthopedic services and to schedule an appointment, call our Consult-A-Nurse® team at (877) 642-2362.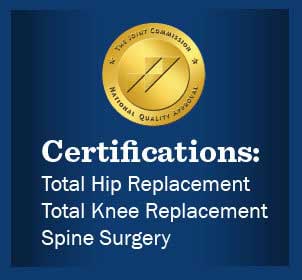 Comprehensive orthopedic services close to home
We provide the highest quality care and the most advanced treatment options available. Patients choose us for:
A compassionate team committed to your health: You benefit from a team of doctors, surgeons, nurses, pain management specialists, case managers and educators dedicated to helping you get better, faster.
Care in a full-service hospital: Our hospital has all the services and amenities needed for a comfortable recovery.
Comprehensive preoperative education: To help ease anxiety before surgery, we offer a total joint replacement orientation that includes an inside look at our facility and what to expect before, during and after surgery.
Convenient, walk-in orthopedic urgent care with no appointment necessary: Visit Parkland Urgent Care in Salem, New Hampshire, for minor orthopedic injuries, such as sprains or strains. You'll save time and receive fast care while still benefiting from Parkland's orthopedic expertise.
Exceptional teams built around your needs: Our surgeons, nurses, physical therapists and other professionals will educate you on your condition and tell you about all available treatment options.
Fellowship-trained, board-certified specialists: Your care comes from board-certified doctors specially trained in orthopedics, orthopedic surgery, sports medicine and neurosurgery.
National certifications recognizing our expert services: Parkland Medical Center is certified by the Joint Commission for Joint Replacement Hip and Knee.
Specialized, comprehensive care before and after surgery: Our patients have access to the latest diagnostic labs and imaging services, inpatient and outpatient orthopedic rehabilitation services, pain management programs and more. We also offer inpatient and outpatient physical therapy and rehabilitation services and pain management programs, all under one roof.
We use a combination of approaches to meet your health needs and recovery goals. Depending on your diagnosis, your orthopedic doctor can prescribe:
Rehabilitation therapies
Medication
Noninvasive procedures
Minimally invasive surgery
Foot and ankle care
Our foot doctors are experts in providing care to restore as much mobility as possible. We use physical therapy, braces and orthotics, injected medicine and other foot and ankle treatments.
Hand and upper extremity care
Hand and upper extremity injuries are those that affect any part of the hand or arm, from the fingertips to the shoulder. We provide hand and upper extremity treatment for injuries and related conditions, such as tendinitis and torn rotator cuffs.
Spine care
The orthopedic and spine care teams at Parkland use a multispecialty approach for back or neck pain resulting from injury, disease or overuse. We recommend nonsurgical treatment when possible but can also perform advanced, minimally invasive procedures.
Arthritis and joint care
Our rheumatologists can work with you to treat arthritis or joint inflammation. We'll go over lifestyle changes to improve your joint health and can recommend surgery if an invasive option is your best choice.
Joint replacement surgery
Sometimes, a total or partial joint replacement is the best way to improve your quality of life or return to full mobility following injury or illness. We perform hip replacements and knee replacements using the latest minimally invasive techniques.
Virtual Tour
Orthopedic care locations
Retrieving location data...