Urologists in southern New Hampshire
At Parkland Medical Center, our urology specialists are committed to providing accurate diagnoses using the most effective, least invasive treatment options for urologic conditions. From prostate care to urinary incontinence treatment, we'll help restore your health and improve your quality of life.
For more information about our urology program or to schedule an appointment, call (603) 421-3663.
Parkland provides advanced urologic care for men and women. We treat conditions affecting the urinary tract—bladder, kidneys, ureter, urethra and sphincter muscles—and the male reproductive system.
Our team includes expert urologists and skilled urologic surgeons, and through our partnership with the Lahey Institute of Urology and our affiliated urology practice, Manchester Urology, you have access to board-certified and fellowship-trained specialists.
We treat most urologic conditions, including:
Abnormalities of the pelvic floor and urinary tract
Adrenal masses
Kidney stones
Cancers of the urinary tract
Prostate cancer
Testicular cancer
Pelvic floor dysfunction (PFD), including pelvic organ prolapse and voiding dysfunction
Pelvic injuries and complex pelvic conditions
Pelvic reconstruction (male and female)
Prostatitis and benign prostate enlargement (BPH)
Ureteral blockages, including ureteropelvic junction obstruction (UPJO), and flow problems
Urinary incontinence
Urogynecology
Urogynecologists focus on caring for female pelvic conditions. Through our gynecology program, our urogynecologists diagnose urinary and pelvic floor disorders in women and provide the latest treatments to improve your health and comfort.
Urologic cancers
About one in six men are diagnosed with prostate cancer. Early detection can save your life, so it's important to get screened.
If cancer is detected, our skilled urologists will collaborate with Parkland's primary care physicians and an array of specialists from the Lahey Institute to develop and implement an individualized treatment plan. This collaborative approach and our extensive network of resources enables you to participate in a full range of treatments and clinical trials.
We treat urologic cancers affecting the:
Adrenal glands
Bladder
Kidneys
Prostate
Testicles
If you need help returning to regular life before, during or after cancer treatments, you won't have to look further than Parkland's diverse programs. We often refer patients to our other services, such as physical therapy and rehab to deliver complete care.
Prostate health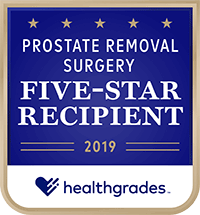 A small gland about the size and shape of a walnut, the prostate is part of the male reproductive system. The prostate changes as you grow older and may create problems, but most prostate changes are not cancer. For example, as the prostate grows, it can squeeze the urethra enough to cause problems passing urine.
The three most common prostate changes are:
Inflammation, also known as prostatitis
Enlarged prostate (benign prostatic hyperplasia or BPH)
Prostate cancer
Diagnosing and treating prostate conditions
Signs of prostate conditions can appear in men in their 30s and 40s but usually, don't present until much later. You may notice:
Passing more urine during the day
Frequently waking up at night to pass urine
An urgent need to urinate
Less urine flow
Burning when you urinate
Regular checkups with your doctor can reveal prostate changes that need attention. Your doctor can prescribe antibiotics, anti-inflammatory medications or muscle relaxants to treat prostatitis. If your doctor suspects prostate cancer, you'll undergo additional screening and diagnostic tests. Parkland Medical Center offers prostate biopsy under sedation.
Your treatment plan may include:
Active surveillance
Urologic surgery
Radiation therapy
Hormonal therapy
Urinary incontinence
Urinary incontinence is the involuntary or accidental loss of urine. Anyone at any point in life can experience this condition, but adult women are twice as likely as adult men to experience urinary incontinence. The risk of urinary incontinence increases with age regardless of gender, but you can take steps to reduce its likelihood.
We'll thoroughly evaluate your condition and provide individualized recommendations. We offer a variety of options for treating urinary incontinence, including:
Behavioral remedies, including bladder retraining, fluid restriction, Kegel exercises, pelvic floor exercises and biofeedback to improve muscle function
Medications for overactive bladder, prostate enlargement, hormonal imbalances, bladder outlet obstruction, muscle relaxation and spasm
Sacral neuromodulation (a "pacemaker" for the bladder)
Vaginal devices and injections for stress incontinence
Surgical procedures following radical prostatectomy, such as a bladder sling or artificial urinary sphincter
Surgical procedures for women, such as a bladder sling or mid-urethral sling
Urinary Incontinence Risk Assessment
Urological surgery
We perform surgery for a variety of urologic conditions, including genitourinary and urologic cancers. Our surgical treatments include:
Cystectomy: Removal of the urinary bladder
Nephrectomy: Total or partial removal of a kidney
Prostatectomy: Removal of the prostate gland
Pyeloplasty for UPJ (ureteral pelvic junction) obstruction: Repair of kidney blockages
Sacrocolpopexy: Surgical correction for vaginal vault prolapse
Urology locations
Retrieving location data...