Our family is a big fan of Chipotle and goes as often as we can. The service and quality are unbeatable for 'fast food' and I could probably eat my weight in their guacamole. But it's not the tasty food that compelled me to kick off this post referencing Chipotle; rather, it's an extra gift they have been including with every meal for some time now. If you've been recently you may have noticed short essays printed on Chipotle's bags and cups — they are excellent and one in particular has stuck with me so I thought I would share as part of this post underscoring the importance of community.
You can learn more about Chipotle's cultivating thought project (or find more essays) at http://cultivatingthought.com/
---
Two-Minute Cheer for the Home Team
by Barbara Kingsolver
The ancient human social construct that once was common in this land was called community. We lived among our villagers, depending on them for what we needed. If we had a problem, we did not discuss it over the phone with someone in Mumbai. We went to a neighbor. We acquired food from farmers. We listened to music in groups, in churches or on front porches. We danced. We participated. Even when there was no money in it. Community is our native state. You play hardest for a hometown crowd. You become your best self. You know joy. This is not a guess, there is evidence. The scholars who study social well-being can put it on charts and graphs.
The happiest people are the ones with the most community.
In the last 30 years our material wealth has increased in this country, but our self-described happiness has steadily declined. Elsewhere, the people who consider themselves very happy are not in the very poorest nations, as you might guess, nor in the very richest. The winners are Mexico, Ireland, Puerto Rico, the kinds of places we identify with extended family, noisy villages, a lot of dancing. The happiest people are the ones with the most community.
---
At Parkland Medical Center our native state is community and in addition to being here for those who depend on us we also support dozens of local organizations through donations, fundraising support and volunteer involvement. Our employees serve on boards and are actively involved in many community organizations. Each community opportunity gives us a chance to connect, to be in a relationship. That is what community is all about...connection. We connect with our community every time someone walks through our doors seeking care, but we also connect every time we're at the grocery store or volunteering at a local event. This time of year gives us many opportunities to connect outside of daily operations. We recently took advantage of United Way's Day of Caring to help out two local organizations. Several Parkland staff members supported Meals on Wheels (cooking and delivering) and several worked at Silverthorne Adult Day Center in Salem to paint and spruce up the place.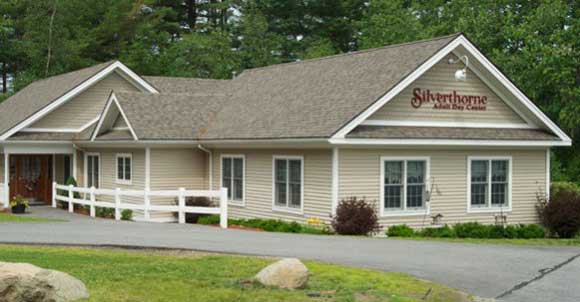 The Day of Caring Parkland team celebrating after a hard day's work at Silverthorne Adult Day Center (from left to right: Heather Gervais, Rehabilitation; Jill Lacaillade, Cardiology; Chris Accashian, Administration; Eileen Keefe, Administration; Sharyn Ramos, IT&S; and Deb Bell-Polson, Women's & Children's Services)
Our Employee Advisory Group (EAG) does an exceptional job of advocating and facilitating connections and I want to thank them for reconnecting us to United Way's Day of Caring.
This past weekend, we divided and conquered to be present at both Salemfest and Derryfest. It was perfect weather for perfect examples of communities connecting. It was noisy; we listened to music and there was dancing — we were our best selves! These events bring dozens of community organizations together and we always appreciate the opportunity to connect with each other and our neighbors. Our appreciation to all who participated.

Connecting with the residents in Derry at Derryfest last Saturday (from left: Jill Lacaillade, Cardiology; and Smokey the Bear)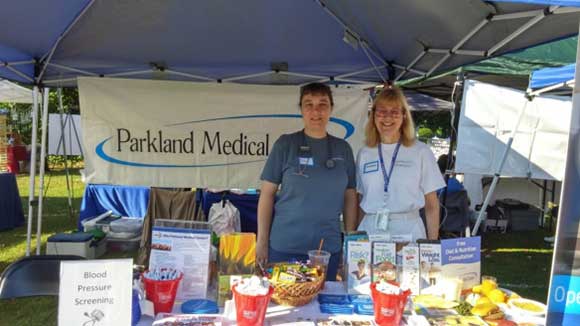 Manning the Parkland Booth at Derryfest last Saturday (from left: Jennifer Bobalia, APRN, Occupational Health; and Barbara Eagles, Food & Nutrition Services)
Community is everywhere and as your community hospital we embrace the role we play, and the relationships we have, in the communities we serve. Success is somewhat harder to measure in this pillar but it's a focus area for us to continuously enhance connections with the hope of helping shape a community in the truest sense of the word.