 Parkland Medical Center honored several colleagues for their outstanding commitment to patient care, the patient experience, their colleagues and communities, as well as their dedication to humanitarian and volunteer activities. Each winner was nominated by their hospital peers.
Among the Awards of Distinction presented to the employees were three Frist Humanitarian Awards. The Frist Humanitarian Award was created in 1971 to honor outstanding individuals for their humanitarian and volunteer activities. Named in honor of HCA Healthcare founder, Dr. Thomas F. Frist Sr., this award recognizes hospital employees, physicians, and volunteers who serve the community and those in need, and whose daily dedication and caregiving epitomize the highest standards of quality and personal commitment.
The award winners are, with information from their nominations:
Awards of Distinction
Frist Humanitarian Award – Employee
Marc Dupuis – Director of Pharmacy
Mark is an outstanding leader at Parkland Medical Center. However, Marc spends a lot of his time outside of work giving back to his community. He volunteers for his sons' high school band and has volunteered more than 160 hours in 2022. Marc's volunteer work includes: fundraising, promotions, videography, and photography. He was the band's photographer and videographer for all of their events. Marc has been doing this for many years while his sons played in the band. Lastly, Marc donated his HCA Healthcare donation match to the band.
Frist Humanitarian Award – Volunteer
Diane Kay - Volunteer
Diane is an amazing volunteer at Parkland Medical Center who greets every individual coming through the main entrance with a contagious smile. She is the face of the front entrance and brightens everyone's day. Not only does Diane devote three days a week to volunteering at Parkland, but she also spends a lot of time volunteering at her church. Diane is one of the most kind and caring individuals that I have ever met. She loves to help people and give back to the community any chance she gets.
Additional Awards of Distinction:
Innovator of the Year
Holly Mitchell – Director of Critical Care
Holly consistently raises the bar for the care and services we provide at the hospital. She is constantly leading by example using positive and professional behavior during all circumstances. She is the driver of positive change. Holly has implemented the in-house Parkland hemodialysis program, the care team extension LPN staffing model on Intermediate Care, the nurse extern job description and position, and the ultrasound guided peripheral IV insertion program. Holly wrote the policy around these practices and supported education efforts. She has done all of this in the last year while leading our ICU in caring for high acuity patients. She is a great leader and tremendous asset to Parkland Medical Center.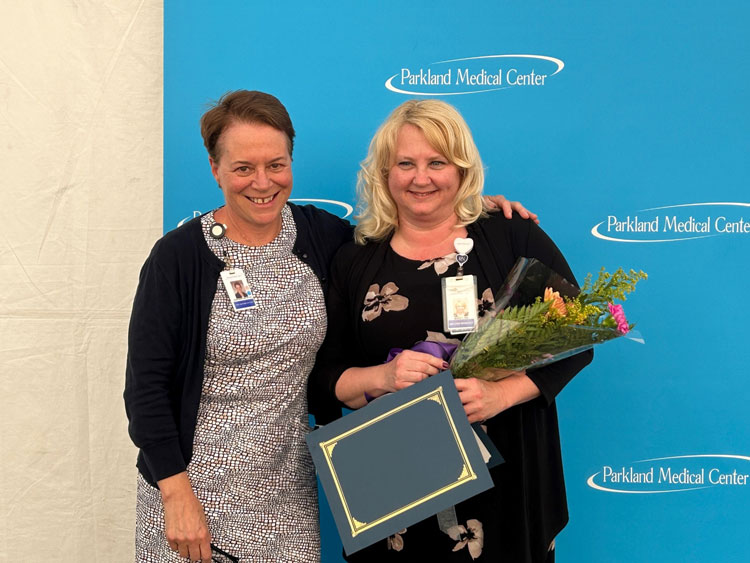 Nursing Excellence – Compassionate Care
Melissa McGrail – Case Management
Melissa works in Case Management and is passionate about doing the right thing for our patients. It doesn't matter if it is setting up rides for treatment or arranging home care, she is always helping do what is in the best interest for patients and their families. She is also amazing at making sure patients help get their last wishes, whether that is getting them home or into hospice care.
Nursing Excellence – Professional Mentoring
Belma Mustafic – Med Surg
Belma has been very instrumental at Parkland with the growth and development of our Med Surg Department. Belma has great attention to detail and has great clinical excellence as a preceptor. Her ability to teach is evident as a clinical leader both in her charges and at the bedside. Belma models compassion excellence and the value of diversity with evidenced-based teaching and empowering new staff.
News Related Content