What is a stroke?
When you're having a stroke, delays can cost you brain cells. Simply put, Time = Brain. Stroke is the No. 4 cause of death and a leading cause of disability in the United States.
Act FAST
---
If you suspect a stroke, remember to act FAST to identify symptoms:
FACE: Ask the person to smile. Does one side of the face droop?
ARMS: Ask the person to raise both arms. Does one arm drift downward?
SPEECH: Ask the person to repeat a simple phrase. Is their speech slurred or strange?
TIME: If you observe any of these signs, call 911 immediately.
Brain saving care.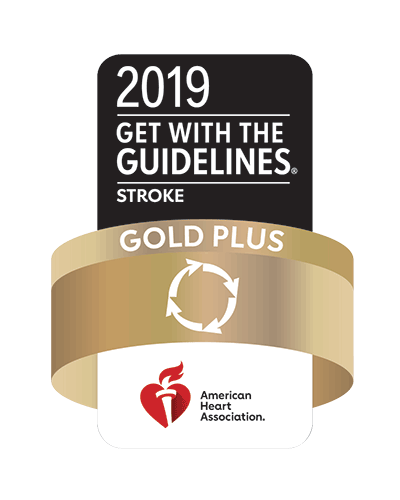 At Parkland Medical Center, our emergency medical team works closely with local EMS providers to deliver brain–saving care within the critical first three hours after symptoms appear. We can administer clot–dissolving drugs and help avoid permanent brain damage, diminished capacity or death. Together, our fast actions and response give you the greatest chance of recovery that preserves the best possible quality of life.
Our relationship with our sister hospital, Portsmouth Regional Hospital, gives you access to a wide range of treatments for stroke, including advanced technology for neurosurgery. By consistently creating better outcomes for stroke patients, Portsmouth has achieved designation as a Certified Primary Stroke Center from The Joint Commission, the nation's leading healthcare accrediting agency.
Rehabilitation to rebuild your life.
After a stroke, we partner with you on the road to recovery. Our comprehensive rehabilitation services include physical, occupational and speech and swallowing therapy. In addition, we can connect you to Neuro Day Rehabilitation at Portsmouth, a comprehensive program designed to help individuals recover from stroke and return to the lives they love.
Learn the warning signs of stroke and how to manage risk factors.
Find a wide range of resources in our online Stroke Center.