A small gland about the size and shape of a walnut, the prostate is part of the male reproductive system and generally grows larger with age. The prostate sits low in the pelvis, below the bladder and in front of the rectum, and helps make semen. The prostate changes as you grow older and may create problems, but most prostate changes are not cancer.
Common Changes in the Prostate
The prostate completely surrounds the urethra—the tube that carries urine out of the bladder—and, as it grows, it may squeeze the urethra enough to cause problems passing urine. Symptoms may appear in men in their 30s and 40s but, more typically, aren't noticed until much later in life. Talk to your doctor if you:
Pass more urine during the day
Have an urgent need to urinate
Have less urine flow
Feel burning when you urinate
Need to get up many times in the night to pass urine
The three most common prostate changes are:
According to the National Cancer Institute, one change does not lead to another. Having prostatitis or an enlarged prostate does not increase your risk for prostate cancer. You may also have more than one prostate condition at the same time.
Your Best Choice for Prostate Health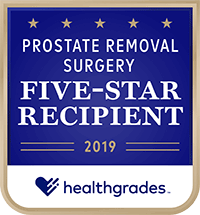 At Parkland Medical Center, you'll find comprehensive care for your prostate health close to home. Our experienced medical professionals use the latest approaches to men's health, along with:
A focus on patient comfort, confidentiality, personal attention and individualized treatment plans
A dedicated and highly trained clinical support staff who get to know you as a person
Current research, clinical best practices, advanced technology and exceptional resources available through our affiliation with Hospital Corporation of America, the largest healthcare provider in the world, and the Lahey Clinic
Minimally invasive surgical procedures, including robotic–assisted prostatectomies, that spare nerves, reduce the impact of surgery, shorten your hospital stay and, generally, speed your recovery and return to function
Diagnosis & Treatment for Prostate Changes
Regular checkups with your doctor can reveal any prostate changes that need attention.
The inflammation of prostatitis, usually a type of bacterial infection, is treated with antibiotics, anti–inflammatory medications or other pain control options and muscle relaxants.
If prostate cancer is suspected, your doctor may recommend screening tests—such as the PSA (prostate–specific antigen) test combined with a digital rectal exam (DRE)—to identify important next steps. At Parkland, you benefit from our multispecialty approach to care, where our skilled physicians, including Lahey urologists and medical oncologists, collaborate closely with Parkland's primary care physicians to create an individualized treatment plan just for you. Your options may include active surveillance, urologic surgery, radiation therapy or hormonal therapy, among others. Our experienced surgeons use minimally invasive and robotic–assisted procedures to spare nerves, retain more function, reduce hospital stays and help you recover faster.
Learn more about the prostate gland and other topics related to men's health in our online Health Library.